Crypto Server
Encrypt 62,300 data per second! Fast and Secure.
Over 80% of enterprise security issues arises from their own employees. Therefore, solving this issue through data encryption is the common viewpoint of all informational security personnel.
Protect corporate confidential properties, including payroll information, potential client data, credit card data, and order data.

Securely transfer data.

Manage data of all resource allocations, monitor and manage access control and user authorization as the main focus including personal authorization management, application system authorization management and access log records.

Utilize secure encryption methods to back up data for privacy, with the methods including symmetric encryption, asymmetric encryption, key management and efficient en/decryption.

Personal data en/decryption.
structure
---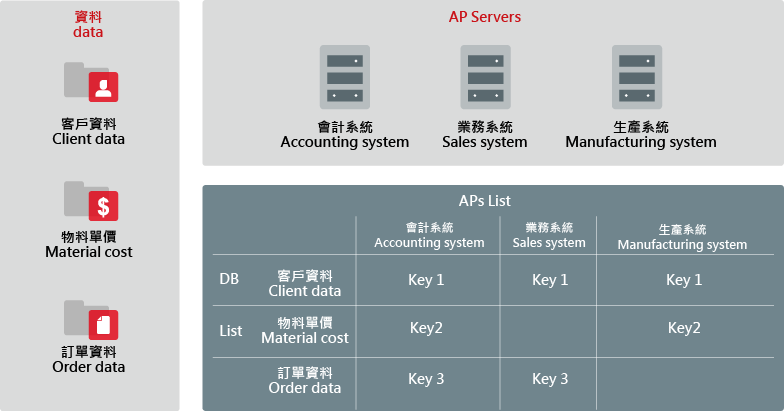 features
---
Support various database types

Including MS SQL, Oracle, MySQL, Sybase and DB2 etc.

Support various programming languages

Including .NET, JSP, ASP, PHP, C, Visual Basic, Delphi, Java and PowerBuilder

Support multiple platforms

Including Windows, Linux, Solaris, Unix and IBM AIX.

Key security

HSM with FIPS 140-2 Level 3 security certification, storing encryption key in HSM for prevention of stealing data and providing automatic key destroying function.

Flexible authorization mechanism

Establish complete application system and authorization mechanism for key; support shared use of the same key for multiple systems or use of various keys for different systems.

Support document and database en/decryption

Support encryption of database columns and documents.

Multiple en/decryption mechanisms

Support symmetric and asymmetric algorithm, as many as over 140 kinds ( 3DES, AES, ARS256, RIJNDAEL, SKIPJACK, RC6, CDMF, IDEA, BLOWFISH, TWOFISH, CAST5, CAST128, CAST256, SERPENT, RC4, SEED and CAMELLIA ).

De-identification rule configuration

Simple configuration of masking column and specification according personal data inventory request.
Advantages
---
A encryption, decryption, and masking platform

Field encryption

Data encryption

File transfer needs

Personal data masking

Low cost

Flexible application and key management system

Multi-language, cross-platform, cross-database

Implement one platform across the whole enterprise

Safeguard corporate assets

Ensure confidential information is never compromised

DBA provides appropriate authorities