advantage
---
Smart Card Compatibility
ARES uPKI supports different types of smart cards in the market today. These smart cards include but are not limited to Natural Person's Authority, Government Certification Authority, Industry and Commerce Authority, Gemplus GemPKCS, Schlumberger eGate, Datakey M330, Nexsmart Windows Powered Smart Card, and Gemplus/Schlumberger VOP card.
Smart Card Auto-Correction System
Different smart cards have different coding, so they have different security systems. ARES uPKI provides auto-correction abilities to make up for the differences in smart cards. For users, no matter which smart cards they are using, uPKI provides the same function.
Multiple Certificate Compatibility
Certificates from different CAs or generations of certificates from the same CA are also identical to that of the application developers. Therefore, the application developers can easily implement specialized applications. Since PKI is not their major job focus, ARES uPKI will take care of everything regarding PKI. ARES uPKI is the world's first PKI solution that provides real-time ASN. 1 encoding/decoding solution. No more pre-complier base ASN.1. We have the pattern in our country. We also apply our pattern to various major markets. The speed of our ASN. 1 interpreter is based on ANSI C with super fast encoding/decoding speed when comparing to competing products. Dealing with any X.509 v3 certificate or CRL is easy.
Operating System and Server Compatibility
Server:Client and Web Server
Language:C, Power Builder, Visual Basic, Delphi, ASP, Java, .Net
structure
---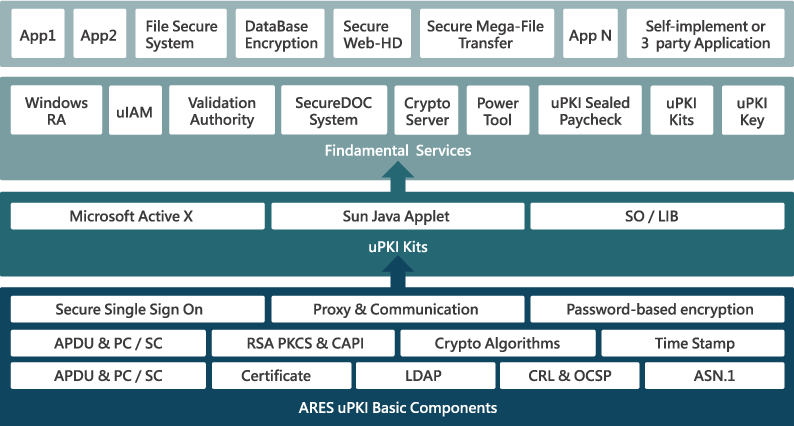 honor
---
Electronic signature patent
Excellent IT Application Product Award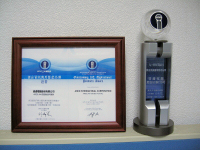 The only information security product in Taiwan that is Novell YES certified
Table Look-Up Method for ASN.1 En/Decoding System
Patent No.TW 202651/US 6999010/JP 3802540/CN 429483
Fast and Efficient Multi-Signature Method