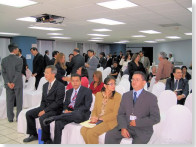 To assist our diplomatic relation with Guatemala to promote e-government in improving the efficiency of their Customs operation, making it transparent and shorten the digital gap, Mr. Francisco H. L. OU, ambassador of the Republic of China (Taiwan) to Guatemala, and Mrs. Calorina Roca, chief director of the Tax Administration of Guatemala, have signed an agreement on Jan 17 at Guatemala time to entrust Taiwan's well-known software enterprise Ares to provide the Customs with e-signature and PKI solutions for the foreign trade of Guatemala.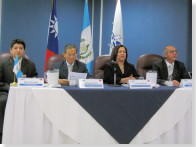 The Taiwan Government started applying basic Public Key Infrastructure (PKI) in 1997. The "Electronic Signature Act" has been passed and implemented officially in April 01, 2002. The PKI is used mainly by government, finance & banking and enterprises. Led by "PKI Interoperability Management and Promotion Program" of Department of Commerce of Taiwan's Ministry of Economic Affairs (MOEA), this project is set to achieve "Domestic Interoperability Environment Establishment" and "PKI Application Promotion" as well as the "International PKI Interoperability Cooperation" and "Promote PKI Application and Industry Development" goals. Guatemala e-government rapidly adopted Ares uPKI amid the assistance of the Taiwan government. Hence, its management can be more transparent.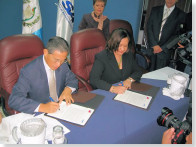 The Republic of Guatemala is a country in Central America bordered by Mexico to the northwest, Belize, the Caribbean Sea and Honduras to the northeast, and El Salvador to the southeast, the Pacific Ocean to the southwest. Its official language is Spanish and major religion is Catholicism. The economical growth rate of Guatemala, the most populous nation in Central America, was 3.2% in 2006. It is also one of the leaders of political and economic affairs in Latin America. Ares set and applied the electronic signature to the original existing Customs operating system for National Tax Administration of Guatemala and made it PKI possible. Customs brokers can be authorized to use Ares uPKI security & control component to complete smart-card electronic-signature operation in Customs declaration forms. The two-set uPKI systems in Customs can help check the validity of their electronic signatures. The transmitted electronic data of the Customs declaration form can be validated via this most strict PKI security system. The Guatemala National Tax Administration has authorized 115 Customs brokers to use this system. Each broker can submit five people to be authorized for use of this Customs declaration system over IC smart card via electronic authentication. The system was about to be used at the end of March or the beginning of April in 2007.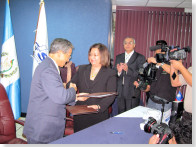 Electronic data and files can be checked and confirmed when the Customs operates Ares uPKI, which can validate Customs broker ID and authorization. The transmitted or saved confidential data can be encrypted or decrypted over PKI, which can be activated by a legal authorized individual or group, so that confidential data of National Tax Administration will not be leaked. Furthermore, portable documents are also integrated into this system. Since ID and authorization need to be validated when the documents are opened, confidential data will not be revealed.
Ares specializes in researching and developing product technology and system integration. It has an excellent reputation for high-quality information service for years. Ares uPKI is the first VA product in Taiwan. It is used most widely in government units. Furthermore, Ares is the largest company of this product in Taiwan and plays a key part in foreign information security exchange.
For more information, please refer to la Oficina del Consejero Economico de la Embajada de la Republica de China, Jan. 17, 2007.